Printmaking without a press
I am here to help you pull fantastic prints, even if you do not have a press.
Methods of printing without a press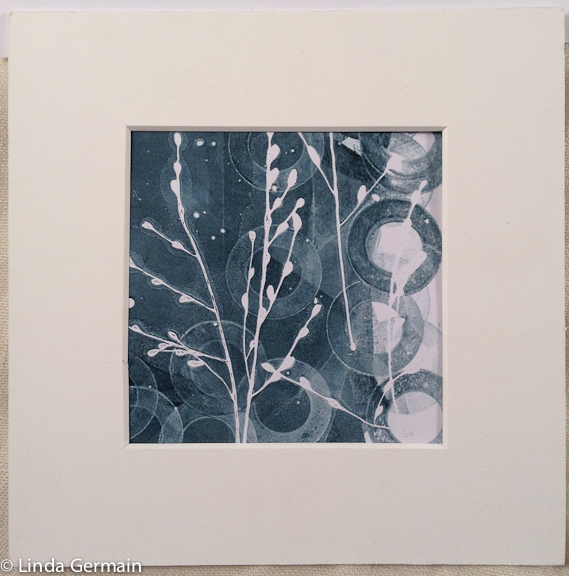 this print was created with some grasses and round rubber thing – no drawing
1. Make Monotypes with the gelatin plate – gelatin printmaking
This method is my favorite. You can get delicate detailed impressions with a strong plate of Jello and a mere hand pressure.
Need help with ink, papers  info here
Want tips for teaching a large class gelatin printmaking check out the FAQ's here.
You can get a 3 step mini course for free here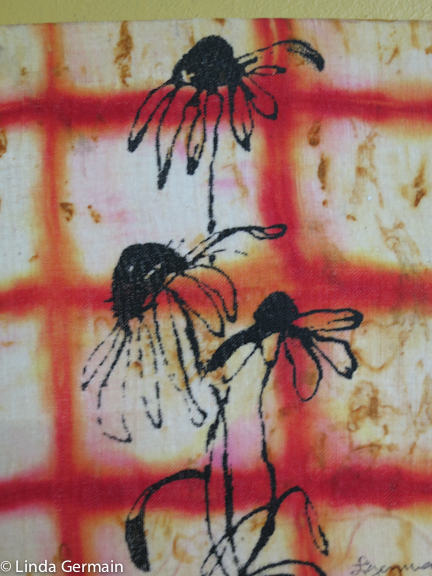 this screen print was based on a flower drawing
2. Screen Printing
Screen printing was made popular by Andy Warhol and his images of famous pop culture icons. But you are familiar with screen printed T-shirts as well.
This process can be as simple as a one color t-shirt design or as complex as a multi color sales poster. The main concept is to pull ink across a highly woven screen. As you pull the ink goes through the tiny holes in the screen that are left open by the design.
Here is a quick video and free tutorial on a simple screen printing method that you can do in your home studio.
3. Relief printing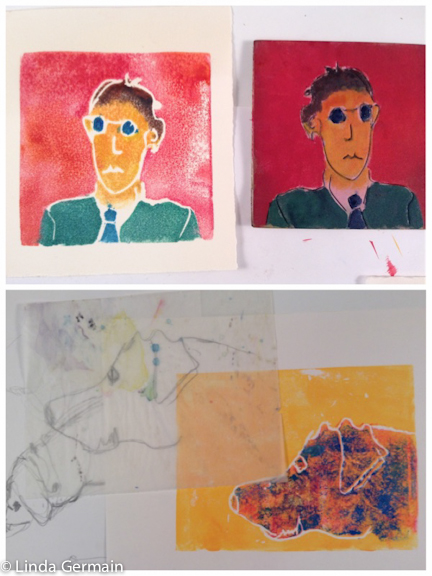 these are foam relief plates – super easy line drawings into prints
Block printing, relief printing or stamping all are based on the same concept. Ink is applied to a raised design and then pressed on to the paper, fabric or other material.
Raised design can be carved wood or steel, pencil lines in styrofoam, carved rubber and the collaged elements of a collograph. It can be done by fine artists, or school children and everyone in between.
Check out the upcoming printmaking workshop – soft block relief printing – starts soon.
Looking for the long lasting glycerin and gelatin plate recipe for making gelatin prints?