Do you want to screen print,
but you're not sure where to begin?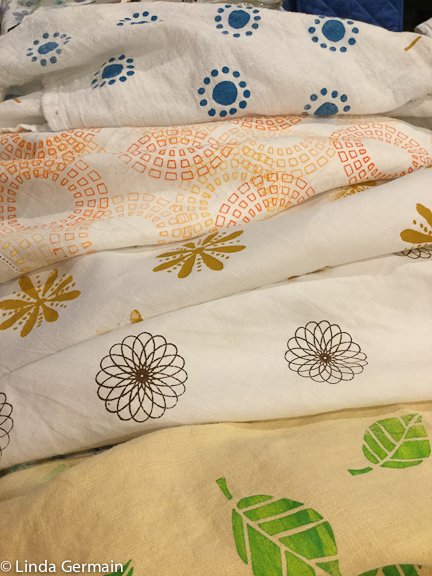 You have an idea about what screen printing is.
Maybe you screen printed in college.
You have heard all about Thermofax printing.
Or you want put your images on fabric, t-shirts, posters or mixed media prints and books.
But………….
You don't have a printmaking studio,
You don't have a thermofax machine and
You know that you need some help to get started
You are in luck………
Pulling Screen Prints is an online printmaking class that you take in the comfort of your own home, with the instruction and support that you need to get screen printing now.

In this printmaking workshop you will:
Explore paper stencils method, drawing fluid method and Thermofax method
Learn to design your own screens from photos, drawings and other types of marks
Get an 8  piece kit of thermofax screens
Pulling Screen Prints was created  to give you skills to confidently screen print your favorite images.
I have taught printmaking skills to artists from US, Canada, UK and 15 other countries. It is quite exciting to be a part of this international group of printmakers.
One Student's experience:
Lynn Fisher says, I have taken many online courses. And I loved Pulling Screen Prints. It was are so clear and such fun.  I was pleased with the variety of techniques available, and how one can match the technique to the required outcome. Lynn Fisher – France, Pulling Screen Prints

Next Class April 30th to May 25th, 2018
Stay on the mailing list to get notice when registration opens.
A Summary of the Schedule for Pulling Screen Prints
Week 1
Create or prepare screens for printing. start with simple shapes made with paper stencils. Explore the cut and torn edge. Wrapping paper and tag project.
Week 2
Explore the screen filler and drawing fluid methods. Learn to repair and reuse these types of screens. Determine what type of imagery is best for this method.
Week 3
Build a registration system that works for your purposes. Combine a shape and detail screen to make a 2 color project. Explore painted and drawn monotype prints.
Week 4
Explore the Thermofax screen.  Use PicMonkey or other photo editing system to create a threshold black and white, high contrast image. Explore other emulsion based kits. Identify Thermofax vendors in your area.
Celebrate your new skills!
This course will include 8 starter Thermofax screens. You can explore, layer and learn about the best images for each method of screen printing.
Here's what some students are saying about Pulling Screen Prints:
I have learned so many techniques, I do not feel so dependent upon buying the images of others for my designs.  When I see a stencil or screen printed  design, I think "Oh, I could do that one." The course totally exceeded my expectations and I can't thank you enough!!! Nancy Warren – US – Pulling Screen Prints
What a wonderful class, opening up the whole world of home screen printing and so many possibilities.

Excellent presentation of materials and so easy to follow ! Thanks.

Lisa Hermanson – US – Pulling Screen Prints
This was my first online class and learned a lot, would recommend to friends.

Specifically, appreciate the  brilliant and very workable registration system that I can easily set up on my work table and use with success and flexibility

2.  Organization to print easily, when I want to , so that I don't waste time or procrastinate because I have to spend time thinking about "how" to get started

3. Being able to make many little screens with the hoops is fantastic because I don't feel so precious and daunted about the materials. I'm more open to experimenting with images. If it doesn't work it's easy to try again. This knowledge is very liberating.

The videos were terrific. Clear short succinct and doable.

I just loved being able to work and experiment at home.

a wonderful experience. – Chris Cooper – Australia – Pulling Screen Prints
This was my first online class, and I learned many skills that I will continue to use in my art practice.  It's the total package of possibilities, but I think my favorite skill has been the drawing fluid/screen filler technique. I enjoy the control possible. I would recommend it to my friends.  Susanne Loutas – Canada – Pulling Screen Prints
I was most pleased to learn, how to use inks and medium, how to work with stencils, how to use drawing fluid, how to use hoops to stretch screens. I learned a lot and would recommend this class to friends. Précille Boisvert – US – Pulling Screen Prints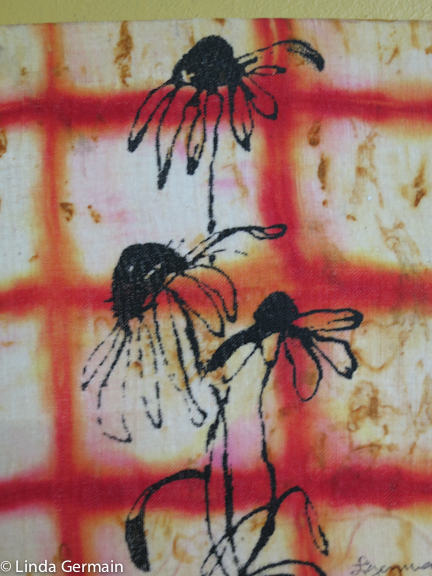 SaveSave
SaveSave
SaveSave
SaveSave
SaveSave
SaveSave
SaveSave
SaveSave
SaveSave
SaveSave