Time to start making your holiday gifts!
Do you love to play with printmaking?
Do you have a pile of prints in your studio?
Do you like to make handmade gifts?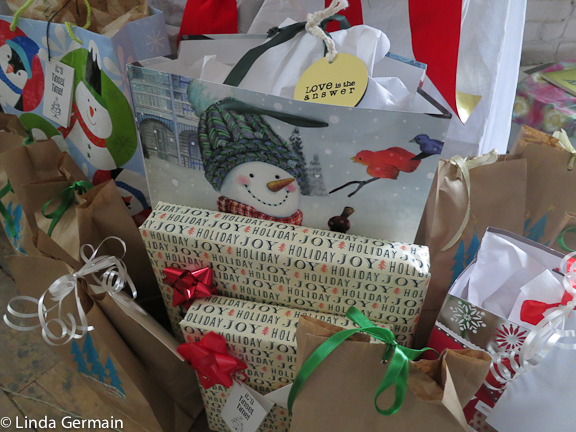 Printed Gifts is an online art class to help you turn some prints and printed materials into holiday gifts. This class is for folks who already have a pile of gelatin prints and who may need design and compositional help.
It is a short actionable class designed to help you transform prints into small gifts that you can enjoy, give away or even sell.
With the holiday season just around the corner, this is the perfect time to join us in this online printmaking class.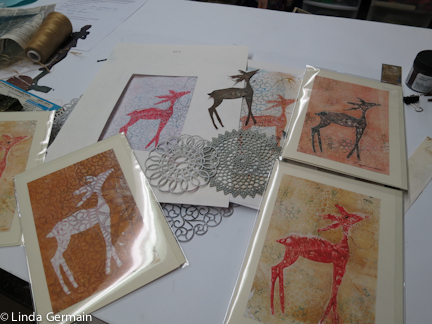 What are the printmaking projects?
This session will focus on printed paper projects. You should already have a stack of prints with potential, that just need a little something added or taken away to transform it into a finished print.
The printed projects for this course are:
Small matted and Framed monoprints
Set of Botanical prints
Cropped and Collaged box set of cards
Abstract landscape collage on a panel
See the suggested supply list here.
Answers to FAQ's here.
Here is what some happy students are saying about the Printed Gifts Workshop:
Thank you Linda….it was a great workshop and has really energized my (art ) brain! I'll be watching the videos over & over again……..BIG thank- you. Arelene F. from Canada
Thanks for all the great inspiration and instruction Linda! It was a fun class. There are lots of usable prints hanging around here, but sometimes I just draw a blank. Thanks for the creative nudge. I needed it. Maggie K. from US
I just love this lesson!!! You really teach very well how to save prints that don't seem so perfect at first.

I did have another printing spree last night (and would love to do so today but duty calls too) and again I see now better and better where I go wrong: I want to add too many layers, to heavy paints, not leaving enough white; saturating my prints. I thought I knew one or two things but I need to practise a lot more. Anja from France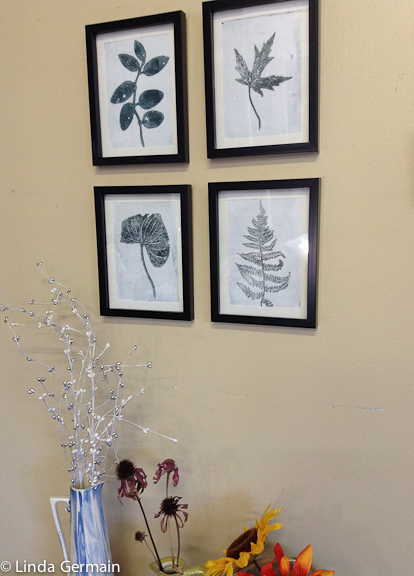 Though these are the specific projects,  you may well be inspired to make other projects with your printed materials such as, gift wrap, tags, banners, and journals.
The technical skills and design concepts that you develop in these project will help you succeed with other printmaking projects.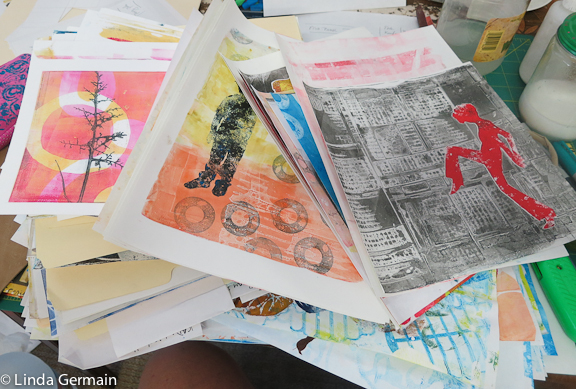 What do you get?
As a member of this printmaking workshop:
17 short actionable videos
4 gift projects and 2 bonus projects
Instruction on design choices and principles needed to create pleasing prints
This class is for folks with some gelatin printmaking experience.
Membership in the private Facebook group to share ideas and support
Answers to your questions and support needed to complete the gift projects
Time to make very personalized printed gifts
See the suggested supply list here.
Answers to FAQ's here.
Printed GIFTS workshop
$59.00
Payments securely handled by PayPal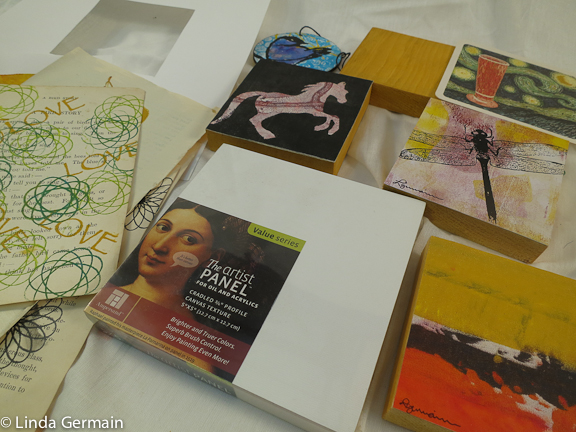 Who is this class for?
You will benefit from this class if you have been printing for a while and have a pile of papers and you want to "complete" some. We will be finishing prints that you already have.
We will use compositional principles, cropping, collaging and simplifying to find a focus that will complete the print.
I will assume that you are familiar with stamping, stenciling and monoprinting with the gelatin plate.
Have a stack of prints and papers that are "almost done"
Want to learn to crop and complete prints with potential into a finished project
Want to improve your compositional skills
Like to play with paper and collage
This is NOT a class to learn the fine intricacies of gelatin printmaking.
The course to do that is Make Monotypes. If you have been exploring gelatin printmaking and you are ready to make some completed prints by combining some other stamping and stenciling techniques then this is the class for you.
If you have questions and you are not sure whether this is there right class for you, then please email Linda@LindaGermain.com.
See the suggested supply list here.
Answers to FAQ's here.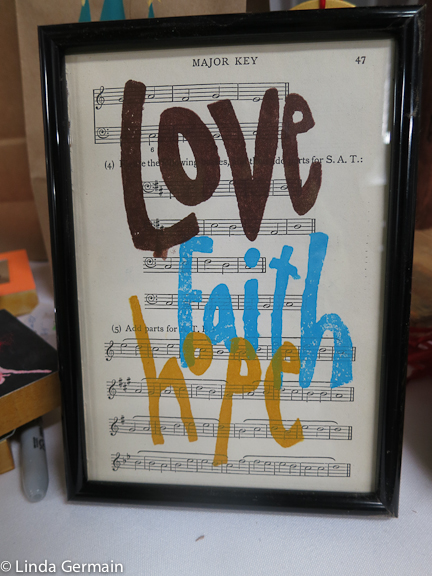 Printed GIFTS workshop
$59.00
Payments securely handled by PayPal
See the suggested supply list here.   Answers to FAQ's here.  
More happy students say:
Linda – You deserve a standing ovation for this one – my favorite workshop so far. I keep trying everything at once, but will have something to post at some point. You've covered so much in just a few days, and the introduction to design is most appreciated. At this point, I'm just really impressed! Deborah B. from the US
I haven't finished watching all the videos; just the first! It is so inspiring! I love "love" watching how you, with so much ease, put together a landscape. I learned a great deal about composition. Now your "mostly-some-and a little bit" are engraved in the creative part of my brain!

I now see how indeed all my prints miss value having seen it in black and white. Got some work to do on that! Anja from France
SaveSave
SaveSave
SaveSave