Monotype Printmaking class @ Museum of Printing – Massachusetts
I am so pleased to announce that I will be offering a Gelatin Printmaking Class, locally, live and in person!
I have not offered an in person studio class in quite a few years. I know some of you folks have been waiting for this because you learn best in person.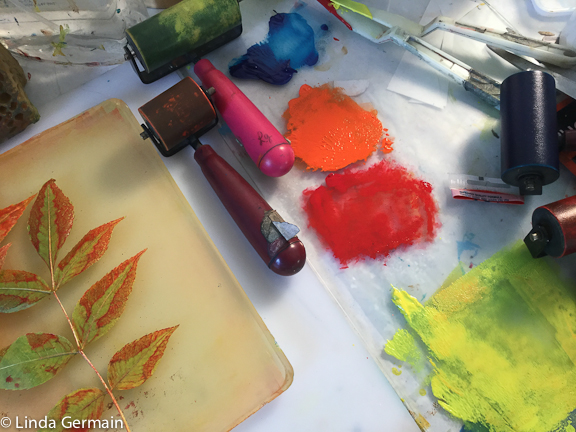 The Printmaking Course quick facts: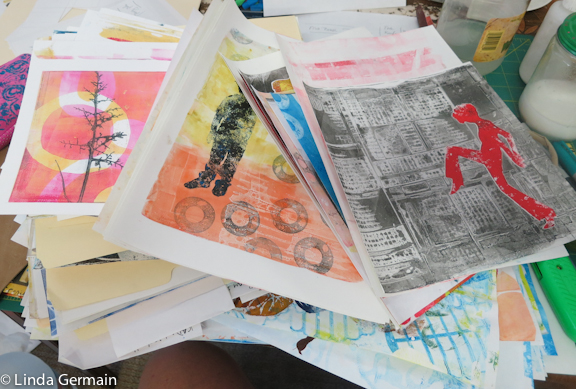 Who is this printing class for?
Beginners to more advanced creatives will benefit from this workshop
Teachers looking for classroom ideas
Mixed media explorers who like to work fast
Retired folks who are looking to fill their time creatively
Schedule for the Gelatin Printing Course – live
We will begin with a few demonstrations and then with a 20 minute session of what I call Yoga Printmaking. Yoga printmaking is a printing process where you follow my voice, suspend judgment and make many prints in just a few minutes. The goal of the process is to get familiar with the basic muscle movements.
There is often some resistance to the the process, but at the end of the day most of my students say that was the favorite part of the day and that they wished they had an audio recording of the process. Trust me!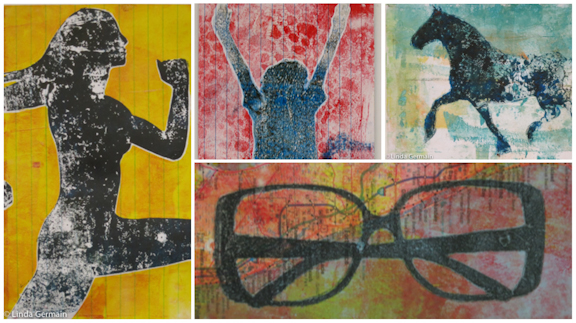 I believe that you learn best by making lots of prints. This is a very experimental and unpredictable process.
Printmaking on your own
break for lunch
slide show – of ideas
specific technique demos
Back to printing on your own – roaming help and feedback
Break – best and worst share
Specific Technique Demos
Print some more try out techniques
Studio clean up
Share, Admire and Celebrate!
I know  that 9 to 5 is a long day. But I really want you to have plenty of time to print and learn from each other.
Enjoy this video of some student work.
Registration is Open
Securely register through PayPal
$150.00
---
Live Gelatin Printmaking Course
at Museum of Printing 
SaveSave
SaveSave
SaveSave
SaveSave
SaveSave