Want to make stencils that are uniquely you?
Make art that is like no one else?
And want to be able to repeat the mark over and over again.
Transform the way you see your world.
You will begin to develop the skill to see shapes and shadows that create compelling designs. This new skill will permeate and enhance all of your art making efforts.
You will have stencil making skills and design skills that will last a life time.
For example, if you pause and start to look for stencil based art you will find it everywhere:
Printmakers pull screen prints
Graffiti and street artist tag box cars
Fiber and quilt artist create fabric and projects
Pre-schoolers make pressed marks
Interior designers cover walls, and furniture
Cities paint creative crosswalks
Mixed media artist layer paper like crazy
You too can be a part of this stencil making community!
I created this printmaking tools workshop to give you the skills to make your own unique stencils.
You will have instruction, time and support to transform drawings and photos into stencils that you can use over and over again.
We will explore materials, methods and motivation behind stencils creation.
Start to see shapes and shadow
Learn to make stencils from your own photos
Transform your art with stencils that you find or create
Examine scale and location of stencil based art
Make your hard work pay off
Students learned a lot in the Make Stencils Workshop:
A huge thank you Linda, it's been a brilliant course and I've learned loads and had a load of fun experimenting. Great to see the other members work and ideas which I hope will still be shared with the group. You're a great artist and teacher. I look forward to the next time.

Sandra Anstiss from UK
I love Linda's work and the way she teaches. I learned a lot and hope to incorporate the techniques into my process soon.

Leona Greenslade, Australia 
Linda did a wonderful job introducing us to using stencils to create new kinds of images. The videos were so well organized and clear unfolding day by day.

The detailed explanations were so helpful. Linda is a gifted teacher. Susan Rogers, US
Make Stencils
Online Printmaking Workshop
We will break down the stencil making process
Summary of Make Stencils Printmaking Workshop
Week 1: Image building  and subject matter development. Explore traditional stencil, tools and materials. Use free software to help change photo to high contrast image and great stencil. Choose printing surfaces and appropriate inks. Optional project One box gelatin plate play.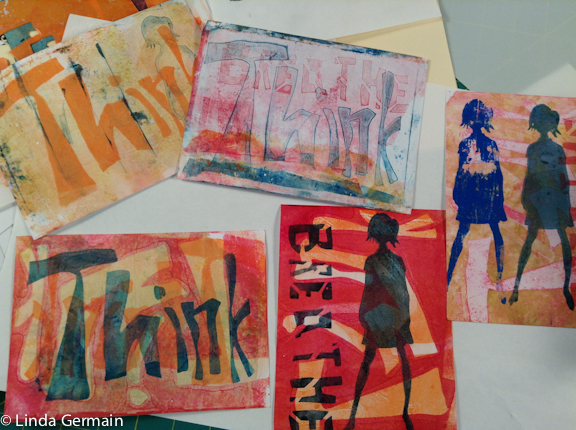 Week 2: Use the masking stencil. Expand the types of materials to make the stencil – consider the texture. Create a set of masking stencils to use together. Consider design elements and principles of variety, repetition and scale and unity. Optional project – one time use paper stencil pillow.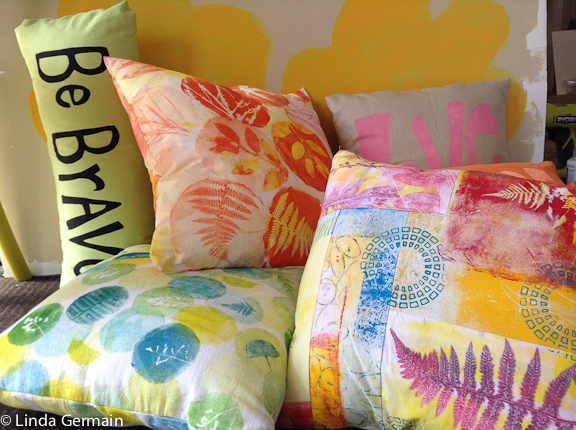 Week 3:  Focus of this week is multi-color portrait or other image. Tweak and revisit images. Explore folded and then cut stencil. This could be something out of your usual comfort zone.  This is meant to inspire and show off your new skills.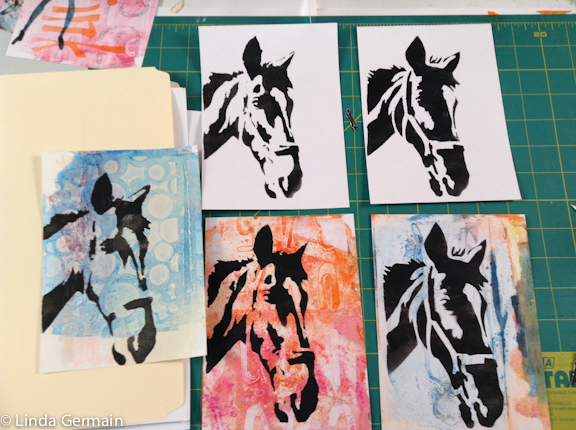 Week 4: Repair, restore and revisit. Let's take care of all these new tools we have made. Are there free or ready made, found "stencil" options? Explore natural stencils and alternatives to paper and plastic. Are there library or community tools available to you? Pause and work these new skills into your regular art making.
Class is in session please stay on the mailing list to get notice of the next time it is offered.
More people are loving Make Stencils Workshop with Linda Germain:
Thank you Linda for another really wonderful class full of new ideas and great inspiration!

If you haven't taken Linda's other classes, particularly Make Monotypes and Pulling Screen Prints, I highly recommend you do! I have taken both and Linda is a consumate teacher, artist, inspirer!

That's the beauty of Linda's classes, having full access to all the videos and information for a while after the class ends and being able to download them to have forever:) JM Robb, US
I have taken all of Linda's classes and have come away with something every time that has enriched my practice.  Honestly, can't recommend Linda's classes enough!!! Marny Stevenson, Canada
If you think that you can't learn in an online environment, think again!

You will be amazed at how much you learn from Linda. Each day she shows you techniques, through her very informative videos. You can play the videos again and again to further understand the process.

I learned the basics – making a plate, rolling ink (this took some practice!) and pulling a print. I am pleased with this. I feel that I can really move on and explore this technique in greater depth on my own.

Marsha Hardin Reske – Make Monotypes 
Having taught at: