Make your Mark on Fabric
Fearless experimentation can lead to extraordinary results
Monoprinting on Fabric with the gelatin and glycerin plate
is a 4 week online printmaking course with ink/paint on fiber and the homemade gelatin and glycerin plate.
You have tried many different techniques
You have a huge stash of fabric
Yet you are still searching for that unique type of textile for your next project.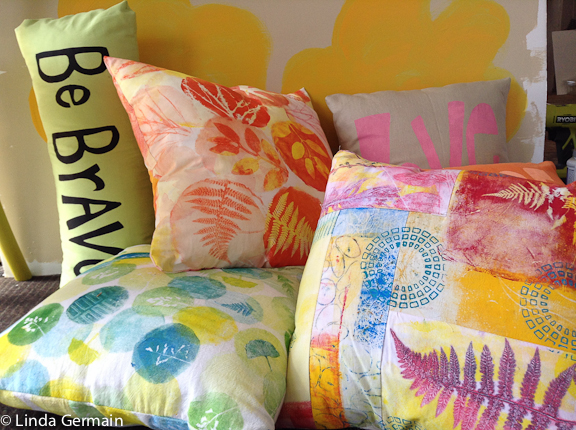 In this textile printing class you will:
Make the printing plate
Collect and create stenciling and stamping tools
Identify the best way to make and transfer marks to the fabric
Choose which inks/paints and fabrics work best for your application
Make a stash of one of a kind printed fabric
Complete a couple of projects
Watch the Video – see what is possible
Students are learning a lot:
Monoprinting Fabric is an enjoyable and valuable learning experience. I will miss the daily anticipation of what new technique was coming next. Linda provided an excellent foundation to build on, and I am grateful for her expertise and willingness to share it with us. I look forward to another class with you. Kathy I. from the US
Gelatin Printing on Fabric Loved it! 3 key approaches I have learned

bubbles/imperfections in the gelatine plate can be a good thing – it does NOT have to be perfectly smooth,
doing a brayer rubbings on a piece of fabric and
finally being able to get a coordinated set of prints.

Thank you everyone in the class for your comments and adding to the learning process. Erin J. from Australia 
Monoprinting on Fabric was created for those of you demanding to use the gelatin printmaking process to print on fabric.
You have access to all the knowledge that I have gained in the  8 years of experimentation with gelatin printmaking.
I created this course to share with you the tricks and techniques that I have learned about printing with the gelatin plate. I want to support you in your own printmaking journey.  I want you to love this unpredictable process, as much as I do.
I have taught artists from the US, Canada, Australia, UK, and 12 other countries.
As a member of Monoprinting on Fabric you get:
4 weeks of video lessons every Monday thru Friday you will receive a private video
20+ short actionable videos to get you printing right away
Personal support and feedback as you need from Linda Germain
Anytime access to the classroom for 6 months after the course ends
Ability to download any or all materials/videos for life long personal use
Choice to be a member of the private Facebook group
Artists are loving Monoprinting on Fabric
I have really loved this course Monoprinting on Fabric and I have learnt heaps.

You are very inspiring. I like your friendly and no fuss style.

Linden L. from Australia
Monoprinting on Fabric has been a fabulous course. There is a lot there to keep me going for a very long time. I love your teaching style, very encouraging, supportive, clear and fun. Patricia G. from the UK
Monoprinting Fabric has been a wonderful class…so well presented.

I have thoroughly enjoyed it!

from Candee L from the US
Are you ready to embrace confident play and brave experimentation to create piles of personalized fabric?
Read the Supply List here
Next Class March 12th to April 6th, 2018
Stay on the mailing list to get notice when registration opens.
Monoprintng on Fabric – Student work from Linda Germain on Vimeo.
You will have all that you need to succeed:
The right tools, lots of practice and personal support 
to gain confidence, expand your printmaking skills and 
create a stash of beautiful prints on fabric.
The Schedule – Monoprinting on Fabric –
the online printmaking course with ink, fabric and the homemade gelatin plate
Week 1 – Let's Get Printing – optimize your workspace, make the gelatin printing plates, find some super simple tools and begin to make the most of your inks and marks
Week 2 – Mask and Transfer delicate marks – choose and preserve natural materials, cut and use stencils to block and transfer ink as desired to create those amazing details that are only possible with this gelatin printmaking process
Week 3 – Make the most of your brayer, identify and create stamping tools that will print best on fabric, transform a small printing plate and create a large printed cloth
Week 4 – Play with painted and brayered abstracts, create textured backgrounds, explore alternative plate use and what to do with less than perfect prints. Identify your strengths and preferences and embrace your new printmaking skills.
Having taught at:

SaveSave