Do you want to explore relief printing
and not struggle with carving?
And get amazing prints?
Soft Plate Relief printing may be the answer. It is a low tech way of printing without a press with simple tools.
It is non-toxic and fast. If you like working with found object mark making tools, then you probably have a stash of tools that will work great with the foam printing plates.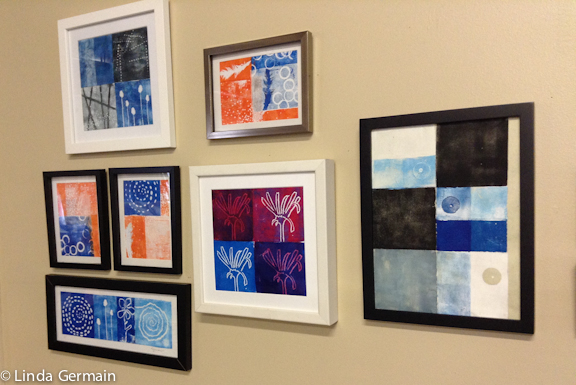 This process similar to traditional block printing.
Create a plate with raised areas.
Ink the plate with a thin layer of printing ink
Place the paper on the inked plate and burnish
The raised parts of the plate catch the ink and then it gets transferred to the print paper.
We will be using water based block printing ink, rice paper and a baren. All you need is hand pressure to transfer the ink to the paper.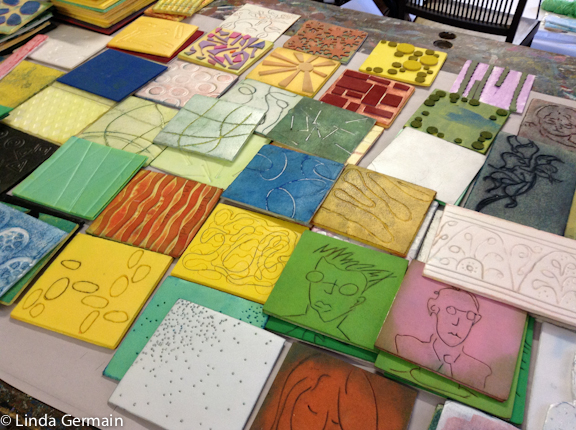 We will make a series of plates that can be layered to create rich and interesting prints. You can combine the relief plate with small detailed stencils to increase the range of imagery that is possible.
You will be guided to find your own unique combination of lines, shapes, marks and tools.
Summary of the relief printmaking lessons
1 – Begin with hand drawn marks, inks and papers – explore simple tools and get a handle on your inks and papers
2 – Foot pressed plates, printing and layering – expand your mark making language. See beyond the traditional and make one of a kind plates. Embrace textures from your own environment
3 – Combine and Create bigger abstract prints – play with your plates, layer and combine and push the boundaries. See what is possible.
4 – Layering, Faces and sketches – paper masks – Add in masks and other materials that you may already use. Learn tricks of white lines and faces.
5 – Multi colored, white line print with damp paper and water soluble pastels – Try a different medium with some of the same plates. Give them a completely different expression
6 – Raised plates, overall prints, combine, complete continue – more layering options. Tips for printing on fabric. What to do with all these prints with potential.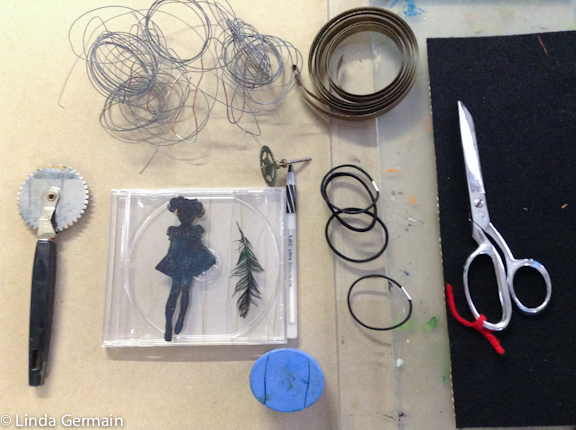 In the picture above are my top tools, pattern wheel, cd case, caps and covers, small masking stencils, ball point pen, metal springs and wheels, bendable wire, 2 strong plexiglass plates, felt pad, elastics and scissors. 
There are 3 main steps to the foam plate process:
Find imagery and inspiration and mark making tools. Prep the foam.
Create a series of plates that you will combine and print together to create a multi colored print.
Print, layer and explore the different combinations of your plates to create several interesting prints.
Because this is a water based process and we do not use a press, it is readily available to almost everyone. Even if your studio is the kitchen table you can still squeeze in some printmaking into your day.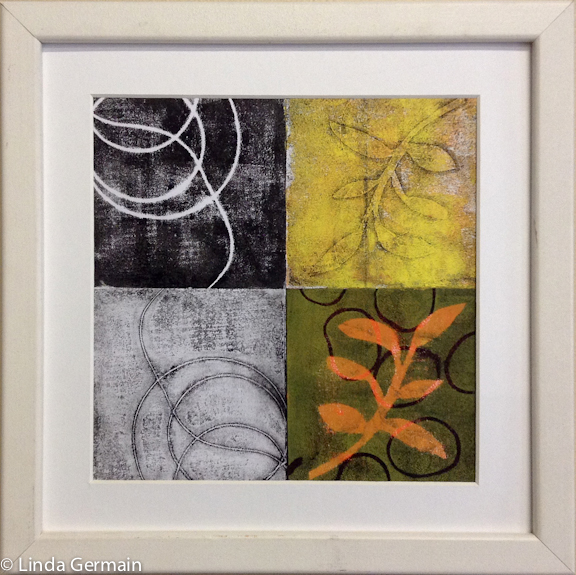 Class starts August 7th through the 18nd
Course fee $97
6 short, clear and actionable lessons
Private Facebook group for sharing and Q and A
Instructor support, guidance and encouragement
Ability to download for lifetime access
Check out the supplies list
Read the FAQ's
Class is in session – stay on the mailing list to get notice of all future classes

---
This is what people are saying about printmaking courses with Linda Germain:
If you think that you can't learn in an online environment, think again!

You will be amazed at how much you learn from Linda. Each day she shows you techniques, through her very informative videos. You can play the videos again and again to further understand the process.

I learned the basics – making a plate, rolling ink (this took some practice!) and pulling a print. I am pleased with this. I feel that I can really move on and explore this technique in greater depth on my own.

Marsha Hardin Reske – Make Monotypes 
Linda is a clear and thorough teacher, who is even open to suggestions. I would recommend this class to a friend.
Barbara Gould – Make Monotypes

This is the only online class I have actually ever really thoroughly engaged in. You are really a master at this form of teaching and the content as well!

Emily Archer, Make Monotypes