Books as ART materials online workshop
This is a project and process based course that uses old books as the foundation for art projects and tools.
Do you love books?
Do you want to make intimate art with parts of old books?
Are you willing to cut up and re-shape books?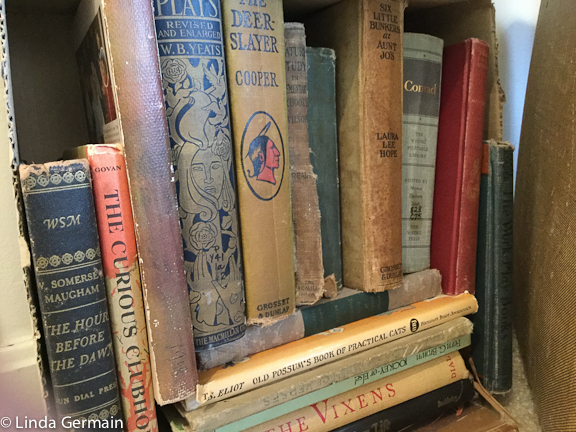 We will:
Take part old books
Use them to make new books
As foundations for print, paint and collage
Work small and big
Learn some basic binding techniques
Embrace the book as a tool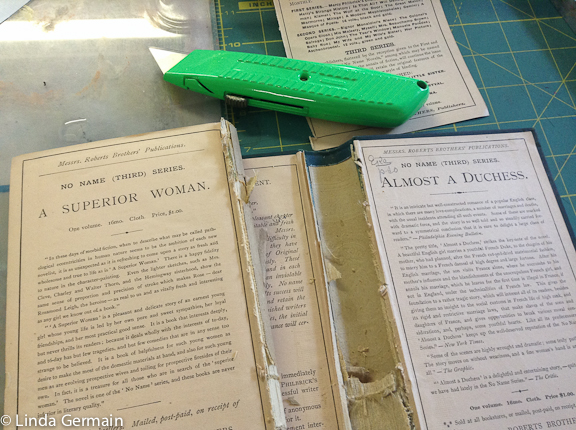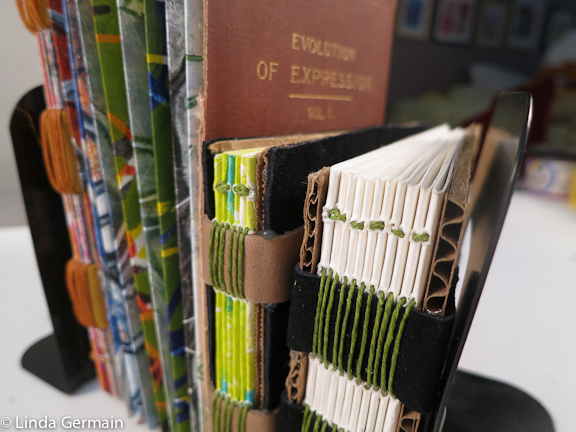 This is a 4 lesson project based on the parts of the books covers, pages, spines and other stuff.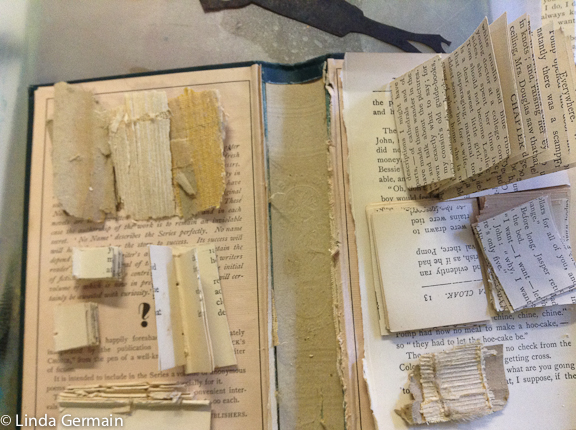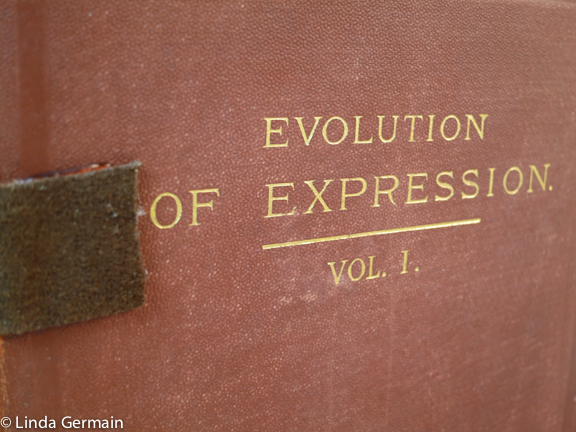 Lesson One – Begin with a structure that will show off your new skills. Take apart 4 books and save the parts. Then  convert the covers into accordion books, enhance your end pages and create a stable hinge.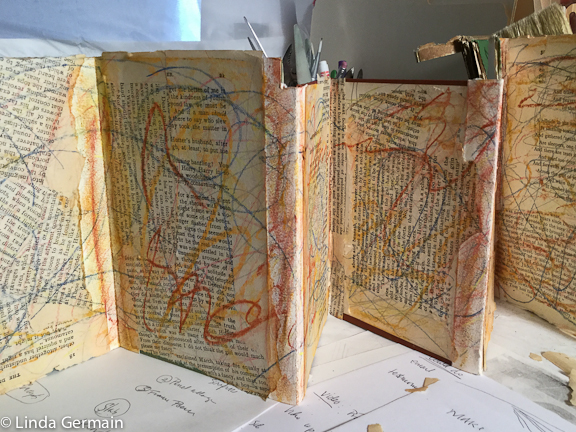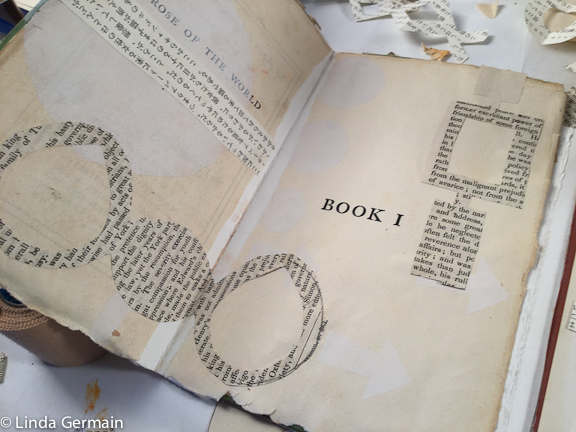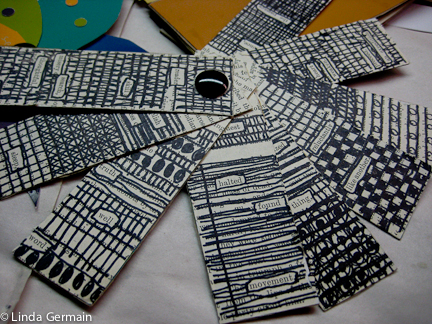 Lesson Two – Pages, Poems, black-out or white-out and, cut out poems. Reassembled page project- let's begin a large scale piece that honors the rectilinear page. Find the most aged and worn pages for this project. some coffee and tea and white paint.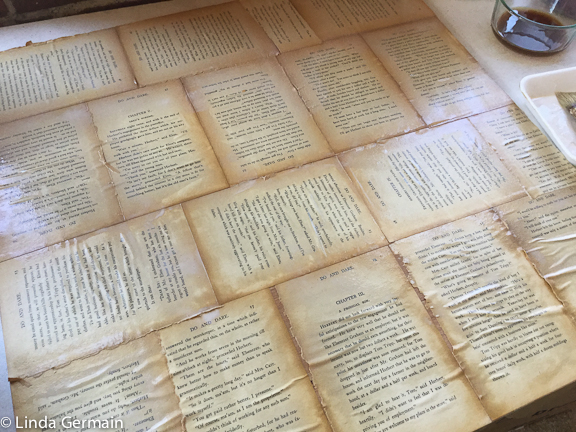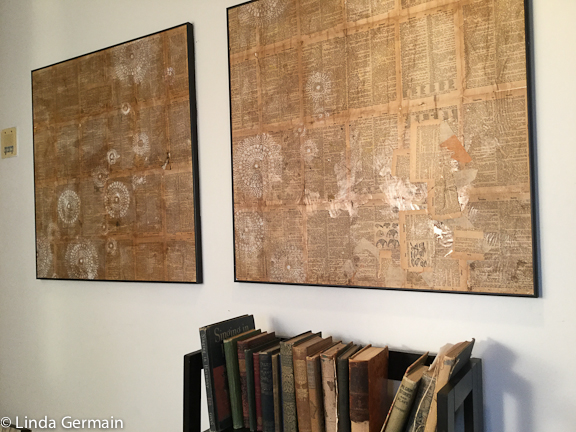 Lesson Three – Celebrate the spine – Use a few of your favorite spines for a dimensional collage. Craft one or more into a book mark. More uses for pages as stamping tools with "quilling" shapes and stencils cut aways.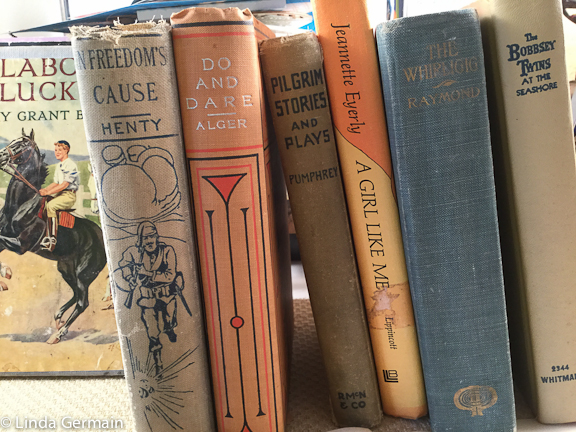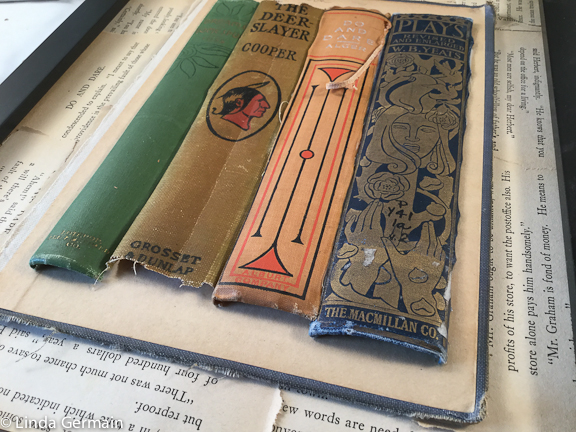 Lesson Four – Smaller scale collages, Create simple stencils, and find raised images and text for rubbings.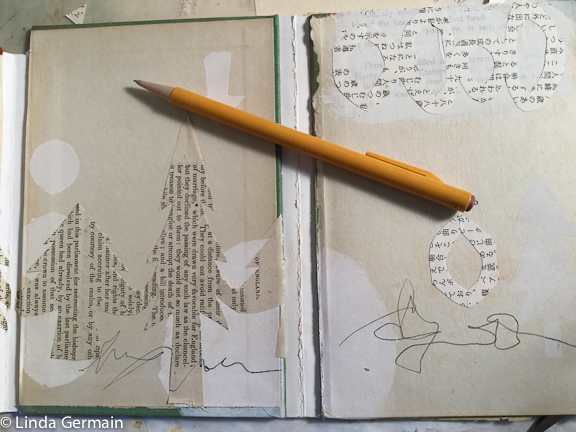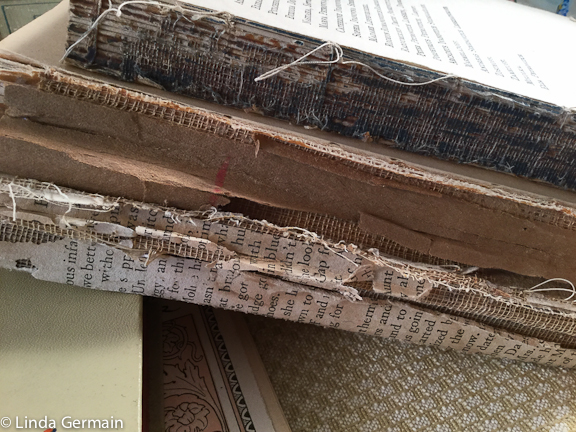 Bonus info  – Folding pages, Cover rubbings, old notes and faded pages, book parts and paper grain.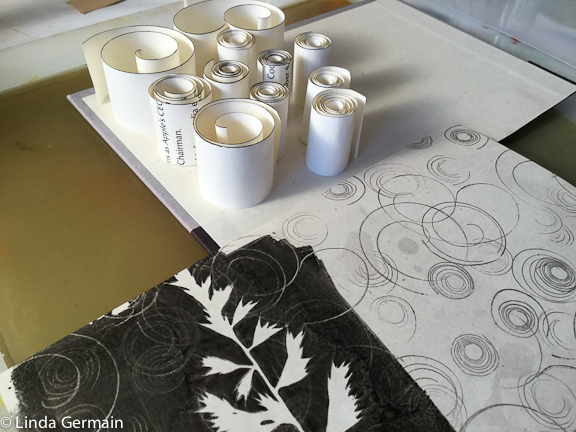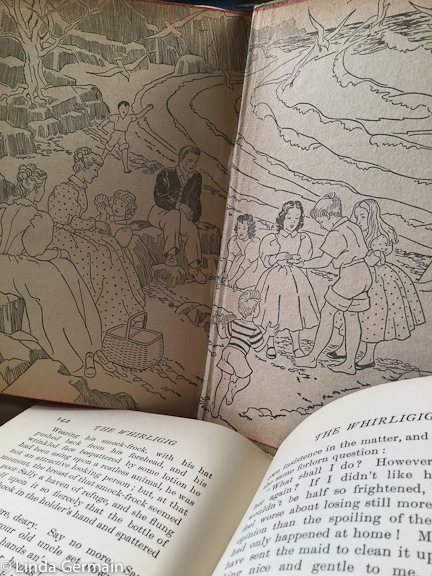 Class begin Feb 16th through Feb 25th 2018
Includes 4 video lessons with supporting instructions
Instructor support and guidance while class is in session
Continued access to the course materials for 6 months
Ability to download videos for forever personal use
Membership in private Facebook group to share and ask questions
Next Class Feb 16th to Feb 25th, 2018
Stay on the mailing list to get notice when registration opens.
Here is what some folks are saying about art classes with Linda Germain:
Participant, Marsha Hardin Reske says,   If you think that you can't learn in an online environment, think again!

You will be amazed at how much you learn from Linda. Each day she shows you techniques, through her very informative videos. You can play the videos again and again to further understand the process.

I learned the basics – making a plate, rolling ink (this took some practice!) and pulling a print. I am pleased with this. I feel that I can really move on and explore this technique in greater depth on my own.

Marsha Hardin Reske – Make Monotypes 
Linda is a clear and thorough teacher, who is even open to suggestions. I would recommend this class to a friend.
Barbara Gould – Make Monotypes

This is the only online class I have actually ever really thoroughly engaged in. You are really a master at this form of teaching and the content as well!

Emily Archer, Make Monotypes
Having taught at:

SaveSave
SaveSave
SaveSave
SaveSave