I have been purging my studio and tools. This has made me aware of the tools that are important to me and the ones that I take for granted.
1. Lots of Newsprint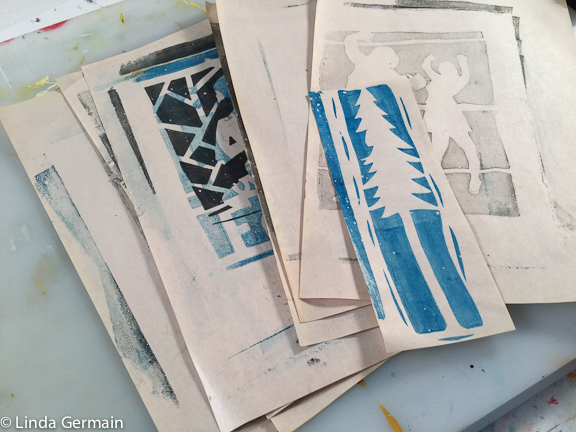 I use to be frugal with newsprint and use it over and over until it could not longer pick up ink. This often results in a beautiful piece of paper that has a rich and unpredictable history of mark.
I use the newsprint to remove ink from the gelatin plate to get the transparency and style of impression that I desire.
2. Small Brayers
I tend to work 8″ x 10″ or smaller and often embrace the uneven brayer marks that result from using smaller brayers. I have 2″ to 4″ brayers. The 3 " is probably my most use size. It is nice to be able to apply ink to the gelatin plate in specific and small areas of the plate with a smaller brayer.
3. Speedball inks and retarder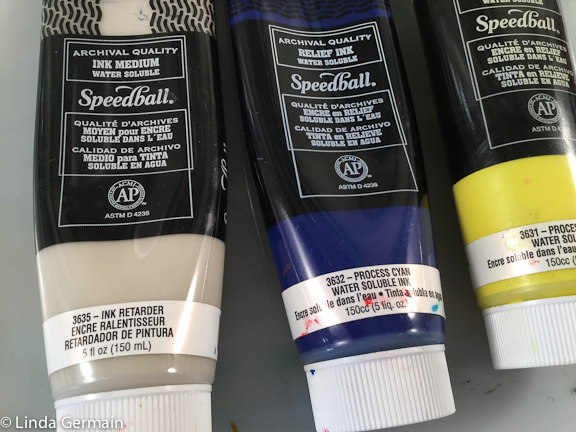 We all have our favorite ink, mine is the speedball water based block printing ink. It is non-toxic, easy to clean up and works well with the homemade gelatin plate. I use the speedball retarder to keep the ink alive and workable longer. It can also be reactivated with a spritz of a few water droplets.
I love the cyan. That is a speedball printmasters ink. It is the same binder as the block printing ink. The 5 oz tube is my favorite size, because it does not dry out as quickly as a can and it is easy to squirt out a small amount. This makes for less waste.
4. Rags and a squirt bottle of water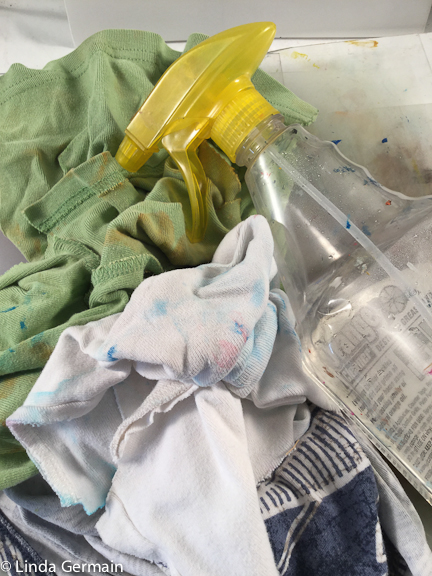 These are essential to my printing process. A damp rag is used to keep my inky fingers clean, when handling the print paper. I periodically tear up old t-shirts and always have plenty of rags. The squirt bottle of water is great to reactivate ink that has dried on the palette.
5. Plexi glass plates and plastic chopping mats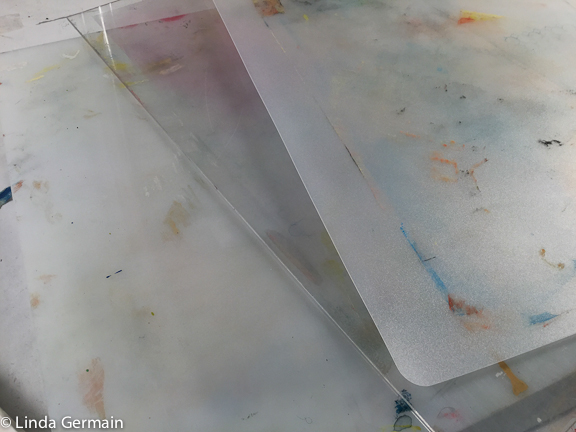 I use these plates and mats as:
ink palatte
surface for the gelatin plate
cover for the gelatin plate
temporary storage of stencils
press plate for grasses and twigs
I would love to share more of my tricks and tools with you in the next session of Make Monotypes, the online gelatin printmaking class.
The class starts January 8, 2018. Read more about the details on the printmaking workshop page.
Stay on the mailing list to get notice of the early bird discount.
SaveSave