I think we all have our favorite types of marks. I like loose expressive lines.
I don't get to draw a lot of these types of lines when I am gelatin printmaking. I use threads to capture that type of expression.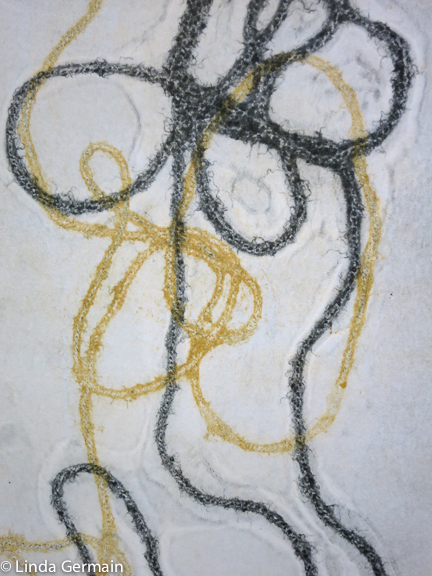 One process that allows me to embrace the loose and expressive contour line is the trace monoprint. This monotype process actually requires that the artist work fast and loose.
In the image above you can see 3 small flowers that were trace monoprinted onto index cards. The black ink on the left is left over after the trace monotype prints were created.
I work with water based inks, so that means I have to work quickly so the ink does not dry before I can create the image. If you work with oil based inks, then you have much more time to create your print.
If you would like to explore trace monoprinting and line drawing, then join us in the next session of See, DRAW, Print – the online printmaking art class. Class starts – Feb 17th. Read all the details on the print workshop page.