I am trying to trick myself into new habits. I confess, I do enjoy watching TV.
Instead of making myself bad and wrong for enjoying TV, I had the idea to add an activity to the mindless, but enjoyable TV watching.
I have tried 2 different activities, that I think will feed my art making process:
Making drawings and doodles without judgement on index cards
Hand stitching on monoprinted cloth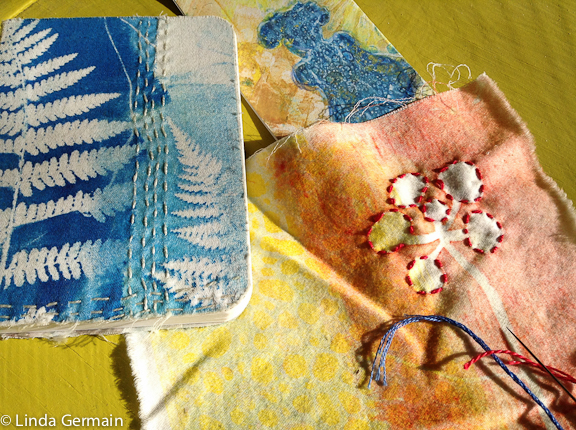 I am pretty pleased with my ability to trick myself into action.
The monoprinted fabric flower above was easy to experiment with. I started with some french knots, but did not like how they looked. So I quickly pulled them out and tried the primitive running stitch.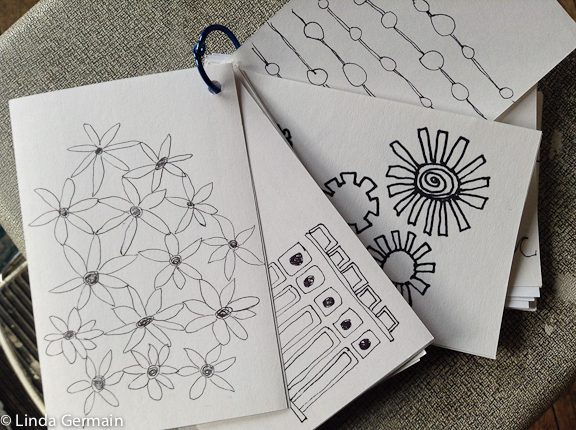 I am super excited about this "Doodle Pack."
I was helping out at Extras for Creative Reuse, the local recycling center, and I was tempted by a stack of 4″ designs on transparent plastic.
I thought, Wow!
These would be great for inspiring printing plates, and stencils and screens.
BUT, I am trying to get rid of stuff not collect more stuff.
So, I decided to make my own stack of small designs and doodles that could inspire printing plates, screens and stencils.
It is so simple. All you need is:
a package of index cards,
hole punch
loose leaf ring clip
pen, sharpie or pencil
I love about this format because it is so easy  to just throw away wicked ugly doodles. Also it is small and easy to carry around. It seems to move me away from thinking that every drawing needs to be good, precious or worthy.
It is empowering to be able to just do a quick doodle and move to another page without judgement.
I would love to provide you with instruction and support with your art making goals. Check out the full schedule of online workshops. Hopefully you find a class that fits your needs.
The next class is Monoprinting on Fabric with the Gelatin Plate. Class starts next week – Jan 9th! Join us for some fun experimental printmaking.
Students are getting a lot:
If you think that you can't learn in an online environment, think again!

You will be amazed at how much you learn from Linda. Each day she shows you techniques, through her very informative videos. You can play the videos again and again to further understand the process.

I learned the basics – making a plate, rolling ink (this took some practice!) and pulling a print. I am pleased with this. I feel that I can really move on and explore this technique in greater depth on my own.

Marsha Hardin Reske – Make Monotypes 
More testimonials here.   Hope to see you in a class soon!