I was pleased to learn about using calipers and dividers to make measurements for folding and cutting when making artists books.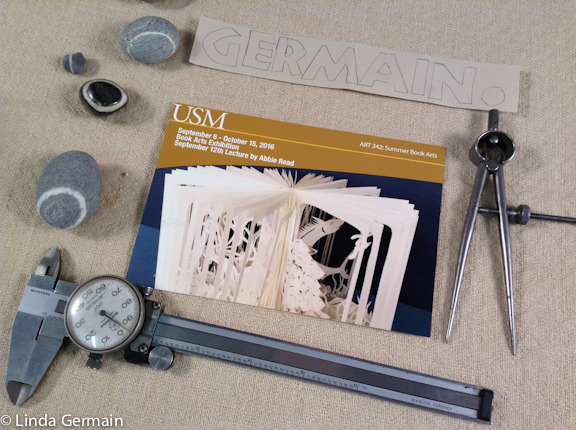 Martha Kearsley, of the Strong Arm Bindery, showed us how to use these tools to measure book blocks and threads to calculate the width of the spine. The caliper is the tool on the bottom with the dial. The teeth on the left open like a mouth and measure a text block.
The pointy tool on the right is a spring loaded divider. Turn the screw on the right and the pointy legs open or close. This allows you to divide the paper into equal lengths with out doing the math or using a ruler. This is good for dividing up the sewing stations on a binding and figuring out the folds of an accordion book.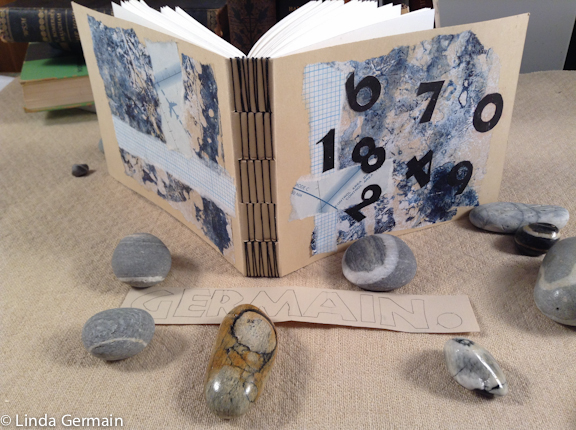 We had about 30 artists in the Summer Book Arts Program a USM and there will be an exhibit in September and October:
Book Arts Exhibition: September 6– October 15, 2016
Glickman Family Library, 6th floor USM, 314 Forest Avenue, Portland, ME 04104
Lecture and Reception: Monday, September 12th, 4:00 p.m.,
Lecture by Summer Book Arts Faculty Member: Abbie Read
University Events Room, 7th floor
Glickman Family Library, 314 Forest Avenue, Portland Campus
Following the lecture there will be an exhibition reception from 5:00-6:00 p.m.
6th floor near Special Collections
Refreshments will be served
Free and Open to the Public