I love books as tools, inspiration and touchable works of art. Today I made a quick little journal with a piece of monoprinted fabric.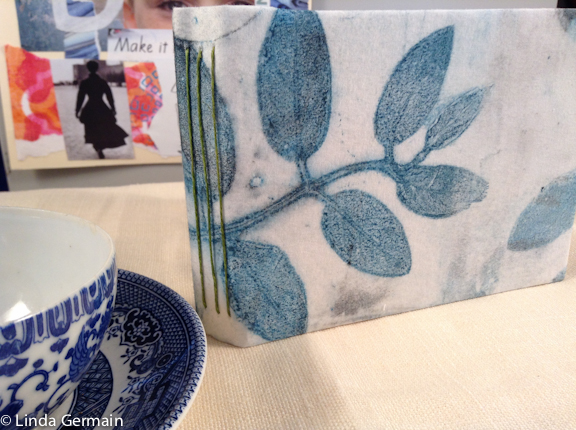 I like to make up the binding as I go. so this is a modified long stitch binding.
The steps to making this little artist's journal:
Cut the inside folios. Folio is a folded sheet of paper
Rounded the corners with my new corner punch
Nested 8 folios inside each other to create 3 signatures.
Cut 2 pieces of mat board  a tiny bit bigger than my page size.
Taped those together with duct tape, and created the spine, wide enough to fit my pages.
Hot glued my hand printed fabric to the cover, wrapping it around the edge to the inside.
Poked 3 holes in the spine at the top and bottom.
Then poked holes in my 3 signatures to match
Starting on the inside of each signature, I stitched out through the spine, down to the bottom and back into the spine and through the signature. 
Tie off each signature in the middle. Tie it snug enough so that the signature does not wiggle but not so tight that you tear the pages.
Finally I added some end pages to the inside covers. These cropped monotype prints cover up the uneven and unfinished edges of the fabric cover.
I used hot glue and tape so I could quickly finish my book project. I used waxed thread, because I had some on hand and I like the way it locks off on itself and keeps a good knot.
Do you love books? Do you use them in your art? Do you make books? Or do you dare cut them and use them as foundations for you artwork?
If you have not tried using a book in this way – try it today! Maybe  use just a page or the cover.  Play with a book. Make touchable, intimate art.
If you like the fabric portion of this project and would like some help monoprinting fabric, then join us in the online printmaking workshop, Monoprinting Fabric. Get the details on the printmaking class page. Class starts soon.