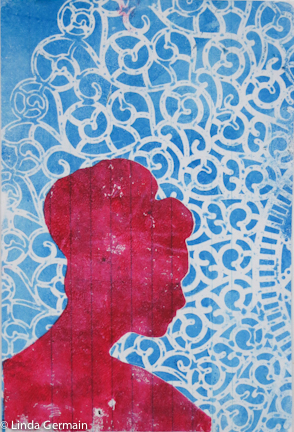 I played with a large plastic doily  and a masking stencil to get this red white and blue gelatin print. I liked the combination of the delicate lacy marks of the doily and the silhouette.
Gelatin Print Stencils
can tear easily if they are just cut from paper.
But no fear you can fix them.
This stencil ripped as I was lifting it off the gelatin plate
so I just used a little mat medium to glue it back together.
Cutting stencils can take some time so I want my masking stencils to last as long as they can.  I shared some tips about stencil cutting in this post.
Best material for Stencils?
I can't really say.  It depends on what results you are looking for and if you want the ink to stick to the stencil or just be blocked by the stencil. So
Try mylar

drawing paper
magazine pages
card stock
plastic
rubber
try coating the stencil with paint or medium several times
And decide what you like for the type of prints that you create.
Happy Printing!